LiNbO3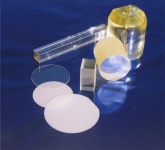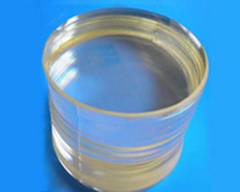 Description:
Lithium niobate (LiNbO3) is a ferroelectric material suitable for a variety of applications. Its versatility is made possible by the excellent electro-optic, nonlinear, and piezoelectric properties of the intrinsic material. It is one of the most thoroughly characterized electro-optic materials, and crystal growing techniques consistently produce large crystals of high perfection.
Applications:
Frequency doubling for wavelengths >1μm and optical parametric oscillators (OPOs) pumped at 1064 nm as well as quasi-phase-matched (QPM) devices;

Pockel cells, Q-switches and phase modulators;

Waveguide substrates, surface acoustic wave (SAW) wafers.
Physical and Optical Properties:
Crystal Structure

Trigonal, space group R3c

Cell Parameters

a=0.515,c=13.863,Z=6

Melting Point

1255 +/-5℃

Curie Point

1140 +/-5℃

Mohs Hardness

5

Density

4.64 g/cm 3

Absorption Coefficient

~ 0.1%/cm @ 1064 nm

Solubility

insoluble in H2O

Relative Dielectric Constant

εT11/ε0: 85
εT33/ε0:29.5

Thermal Expansion

||a, 2.0 x 10 -6/K @ 25℃
Coefficients at 25℃
||c, 2.2 x 10 -6/K @ 25℃

Thermal Conductivity

38 W /m /K @ 25℃

Transparency Range

420 - 5200 nm

Refractive Indices

n e = 2.146, n o = 2.220 @ 1300 nm
n e = 2.156, n o = 2.322 @ 1064 nm
n e = 2.203, n o = 2.286 @ 633 m

Optical Homogeneity

~ 5 x 10 -5 /cm

Sellmeier Equations ( l in mm)

n o 2 (l ) = 4.9048+0.11768/(l2- 0.04750) - 0.027169l2
n e 2 ( l) = 4.5820+0.099169/( l2 - 0.04443) - 0.021950 l2
Specifications:
| | |
| --- | --- |
| Material | Laser grade LiNbO3 |
| Orientation | ±0.5o |
| Dimensional Tolerance | ±0.1mm |
| Surface quality | 20/10 Scratch/Dig per MIL-O-13830B |
| Flatness | λ/8 @ 633 nm |
| Perpendicularity | 5 arc min |
| Parallelism | better than 20 arc sec |
| Clear Aperture | > Central 90% |
| AR Coating | AR coating with R < 0.2% at center Wavelength |