BBO电光Q开关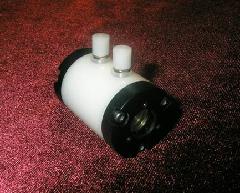 Description:
BBO crystal is well-known for its excellent optical quality and low strain birefringence, which results in high extinction ratios and low wavefront distortion. BBO crystal Pockels cells (200 nm to 1064 nm) are ideal for high speed and high average power switching.
Features:
High extinction ratio;

Low insertion loss;

Resonance free operation;

Small capacitance (~2 pF);

No thermal blooming;

High damage threshold.
Specifications:
| | |
| --- | --- |
| Dimension tolerance | ±0.1mm |
| Flatness | <λ/8 @ 633nm |
| Surface quality:Scratch/Dig | 10/5 Scratch/Dig |
| Parallelism | better than 20 arc sec. |
| Perpendicularity | better than 15 arc min |
| Angle tolerance | △q < 0.2°, △f < 0.2° |
| AR coating | AR coatings |
| Clear aperture | >90% central area |
| Transmitting wavefront distortion | less than λ/8 @ 633nm |